I'm usually not a fan of one-day festivals – maybe because the first day of festivals are generally appetizers, a little taste of action before the main events of days two, three, or four. I usually reserve day one to feel out the vibe of the weekend to come, but FYF 2011, packed full of punk rock goodness, proved to be worth the six-hour drive from San Francisco to Los Angeles.
A few friends and I were staying only a few blocks from the venue, but our short walk was enough to remind me that I was indeed in Los Angeles. Every person walking in our direction was dressed appropriately for the 80-something degree weather: high-waisted short shorts, crop tops, mini dresses and the like revealing tanned skin for days. We walked right into the front entrance, and my initial impressions of LA Historic State Park were that of dust, dry heat, and beautiful people.
We walked in at 2pm and went straight for Leonardo's Stage to see The Head and the Heart. From what I've taken from the band's music, it leans on the indie-folk side of the music spectrum, so I was pleasantly surprised by the poppy-punk guitar. The band's harder hitting performance, fused with its usual uplifting harmonies, felt more fitting for an outdoor day time show.
The Head and the Heart. Photo by Lauren Espina.
We waited around at the same stage for Smith Westerns, who were a bit of a disappointment when I saw the band at Sasquatch Music Festival earlier this year, but they showed vast improvement in delivery and their ability to read the crowd. They have really mastered the glam rock sound, complete with twangy guitar riffs and shimmering melodies, and are entirely dance worthy.
After the Smith Westerns dance party, it was time for a food break. The lines did eat up time, but from what I heard it was nothing compared to previous years. After scoping out the local food trucks and burrito and burger vendors, I decided to get in line for a slice of pizza. At six dollars a slice (and they were huge slices), it was by far the best food deal at the festival. The ATM fee, a painful four dollars, was disappointing but redeemable once I found out about the free water.
Around 6pm, we headed to Michelangelo's Stage to see No Age. Once this duo began playing its noisy, raucous set, a dust bowl of a mosh pit quickly formed. Guys and ladies of all ages were thrashing around, randomly throwing people up to crowd surf (though I did not see anyone surf for more than a few seconds). The rowdiness of the crowd seemed contagious. This would have been the best part of the day if it weren't for the dust. It literally clouded the air, rising in mushroom puffs and making it difficult for me to breathe without some form of cloth covering my mouth. It was worth it to see two friends emerge from the chaos soaked in other people's sweat, sporting dirty T-shirts that were previously white.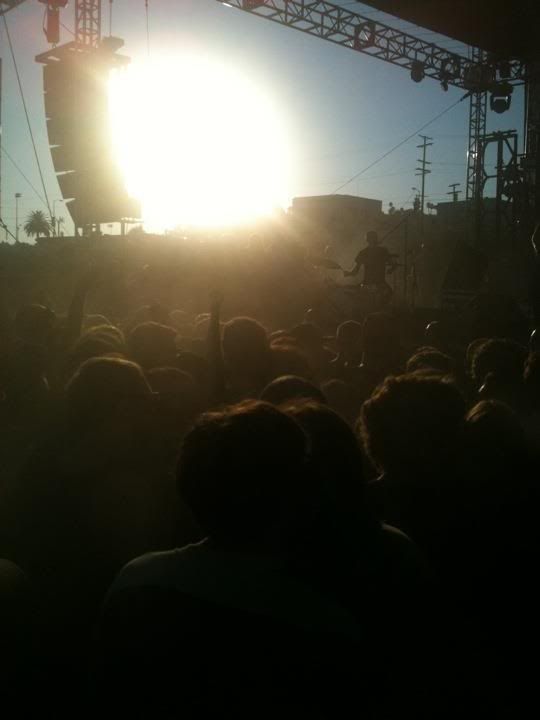 No Age mosh pit. Photo by Lauren Espina.
We were all noticeably worn out after the craziness of No Age, actually coughing and sneezing out dust clots, so we decided to post up in front of Leonardo's Stage to see Broken Social Scene, Guided by Voices, and Descendents. The layered sound of BSS was a perfect way to relax on the half-grass/half-dirt field, trying to hydrate with a jumbo-sized lemonade. The lo-fi and pop-punk sets of Guided by Voices, and in particular the Descendents, helped build the energy back into our group.
Halfway through Descendents, we left to catch the main event: Explosions in the Sky, who I've been waiting to see for over six years. Their set was easily the highlight of the day, sounding like one anthem from start to finish. Their songs blended into a symphony, and the minimal lighting allowed the crowd to focus on the band's music, which created all the ambiance needed for a spiritual rebirth. I remember having my eyes closed for a period of time, and opening them to see one of the guitarists (I couldn't see his face) playing with a pen, tapping it repeatedly on the neck of his guitar, and all I could do was stare in awe. After this insanely mellow but life-changing show, we all opted to leave the festival instead of catching the end of Death From Above 1979 in order to preserve our experience with Explosions in the Sky.
The streets of LA were surprisingly quiet as we walked out of the venue, closing another chapter of music festival history. FYF 2011 was, by far, the best one-day festival I've been to, and as far as music distribution, bathrooms, lines, and general waiting around went, the overall flow of the day was smooth and exactly what a festival should be: no hassles, just music. Perhaps with a change of venue, FYF will turn into one of the festivals I have to attend every year.
RELATED LINKS
Explosions in the Sky Official Website
The Head and the Heart Official Website
Smith Westerns Official Website
Did you go FYF this year, too?
Let us know what you think! Follow us on Twitter and like us on Facebook to give us a shout. You can also stay on top of exciting events from around the world by downloading the eventseeker app for iPhone, Android or Windows.